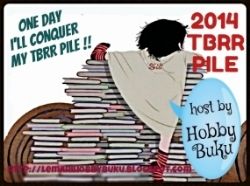 Ini memang masih tahun 2013 kok. Tapi gak ada salahnya kan buat merencanakan daftar bacaan buat setahun ke depan melalui reading challenge yang saya ikuti.
Tahun 2014 saya gak muluk-muluk buat ikutan segala macam reading challenge. Takut tidak bisa terikuti. Tapi reading challenge yang ini saya rasa tak memberatkan saya karena syarat utamanya yaitu :
Membaca dan membuat review buku-buku yang ada dalam daftar timbunan sebanyak mungkin selama setahun
Minimal 1 buku = 1 bulan. Berarti ada 12 buku yang harus diselesaikan dalam waktu setahun
Buku yang terdapat dalam timbunan minimal harus tersimpan selama setahun yang artinya buku terbitan tahun 2014 tidak terhitung dalam list
Genre buku bacaan bebas
Nah... gampang kan ya????
Oh.... saya sempat bertanya juga sih sama Mbak Maria sebagai host reading challenge ini. Katanya si mbak, ebook boleh kok diikutsertakan dalam reading challenge ini. Toh, itukan juga dihitung sebuah timbunan. Tapi... jumlah ebook yang dibaca tidak boleh lebih banyak dari buku fisik.
Dan... ini dia daftar buku yang akan saya baca setahun kedepan yang semoga bisa melebihi 12 judul buku
Time of Death by J.D. Robb
The Darkest Lie by Gena Showalter
Three Weddings and Jane Austen by Prima Santika
Gelang Giok Naga by Leny Helena
Vampire Academy by Richelle Mead
Blind Eye by James B. Stewart
Kedai 1001 Mimpi by Vabyo
Ronggeng Dukuh Paruk by Ahmad Tohari
Lorien Legacies Series (I Am Number Four, The Power of Six, The Rise of Nine) by Pittacus Lore
Fifty Shades of Grey by EL James *melunasi janji kepada #FiftyUnited agar bisa diinisiasi ke dalam grup mereka* :p
The Host by Stephanie Meyer
Insurgent by Veronica Roth
Ok... cukup segitu dulu deh. Seiring tahun berjalan semoga listnya juga bertambah. Kalau kamu mau ikutan reading challenge ini, silahkan
main ke master postnya disini.
Yes.... Another Reading Challenge.
Berhubung saya demen pada genre roman jadi saya memutuskan untuk mengikuti reading challenge ini dan mengajak
Phie
untuk ikut serta. Mau ikutan juga? Coba berkunjung ke blog
The Book Vixen
. Sedikit saya kutip peraturannya :
The goal is to read 10 contemporary romance novels. Books that qualify for this challenge can be young adult, new adult, or adult. Books can be M/F, M/M, or F/F. Books must be a work of fiction (sorry, nonfiction does not qualify for this challenge). Romances with the following elements do not qualify for this reading challenge: paranormal, historical, time-travel, fantasy, science fiction, or mystery/suspense/thriller.
Books can be any format (print, ebook, audio).
Novellas that are at least 100 pages in length, as well as full-length novels, will count for this reading challenge.

Re-reads and crossovers from other reading challenges are allowed.
@ Medan
17122013